Healthcare Accessibility
Lifeline
Medicaid members are eligible for a free smartphone with unlimited talk, text and data under the Lifeline Wireless Program! Learn more and apply at: https://galifeline.com/ Check out our impact below!
OAPI CPI Lifeline Enrollment by Numbers posted 032522
OAPI CPI Lifeline Enrollment by Zip Code posted 032522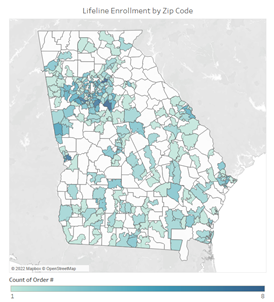 Moms Meals
Mom's Meals, a leading provider of medically tailored, home-delivered meals, and Amerigroup Georgia, a managed care organization, launched the statewide program in an effort to boost health outcomes among expectant mothers with Type 1, Type 2 or gestational diabetes while preventing a higher cost of care. Members will be offered two meals a day for 10 weeks.
OAPI CPI Meals by Month posted 032522