Healthcare Accessibility
Diabetes Awareness Event
The Diabetes Awareness event will be designed to provide education and resources for our diabetic pregnant Medicaid population. The event will be hosted in Richmond County in November 2023. 
We will invite each of the 3 CMOs, professional associations such as GA OBGYN and Georgia Health Care Association, and others, such as doulas, nutritionists, and wellness coaches to speak/present and inform the community.
Over the last 4 years, the number of pregnant women with gestational diabetes has climbed, while the number of OB/GYN facilities across Georgia has declined. As of 2021, approximately 7% of the current pregnant Medicaid population have diabetes, including Type 1 and 2 and gestational diabetes. Source: CDC.gov.
Goals of this event:
Enroll eligible members in the GA Lifeline Program.

GA Lifeline serves as an access point for telemedicine or tele-prenatal care.

Enroll eligible members in Mom's Meals or Open Hands Atlanta (based on CMO).

Mom's Meals and Open Hands Atlanta are resources that can assist with proper nutrition during pregnancy and glucose level regulation.

Ensure participants leave with the knowledge and actionable next steps for proper nutrition and maternal and diabetic care.
Maternal Care Desert Map Credit: GA OBGYN Society, 2020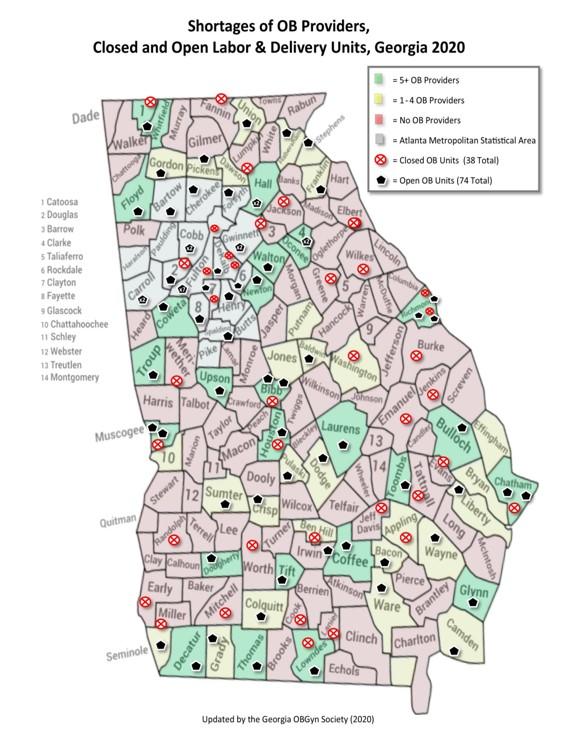 Lifeline
Medicaid members are eligible for a free smartphone with unlimited talk, text and data under the Lifeline Wireless Program! Check out our reach below!
Lifeline Year 1 – 3000 enrollments!
Lifeline Year 2 

Year-to-date enrollments – 800
Year 2 goal is 3500

Promotional Campaign including three new videos:
Moms Meals
Mom's Meals, a leading provider of medically tailored, home-delivered meals, and Amerigroup Georgia, a managed care organization, launched the statewide program in an effort to boost health outcomes among expectant mothers with Type 1, Type 2 or gestational diabetes while preventing a higher cost of care. Members will be offered two meals a day for 10 weeks.
Moms Meals Subscribers by County posted 06.23.22