About Us
The Georgia Department of Community Health (DCH) is one of Georgia's four health agencies serving the state's growing population of over 10 million people.
DCH serves as the lead agency for Medicaid and also oversees the State Health Benefit Plan and Healthcare Facility Regulation Division (HFRD), impacting one in four Georgians. 
Through effective planning, purchasing and oversight, DCH provides access to affordable, quality health care to millions of Georgians, including some of the state's most vulnerable and underserved populations.
Six enterprise offices support the work of the agency's three program divisions. DCH employees are based in Atlanta, Cordele and across the state. 
Caylee Noggle serves as Commissioner of the DCH.
DCH_Quick_Guide_Display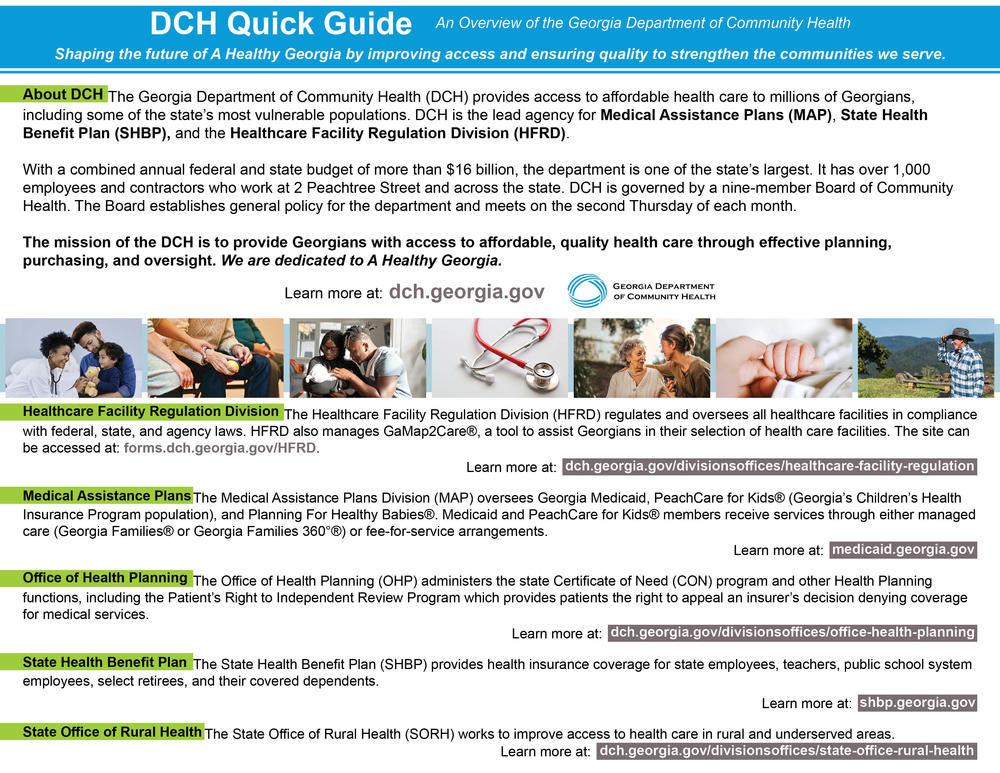 Constituent Services Frequently Asked Questions (FAQs)
History
DCH was created in 1999 by the Georgia General Assembly through the transfer of certain functions and duties performed by three state health agencies. Those agencies (or sections there of) were the Department of Medical Assistance (now Medicaid and the State Children's Health Insurance Program); the Health Planning Agency and the State Personnel Board (including the Georgia Merit System's health care plan section, now the State Health Benefit Plan).
In 2009, HFRD was created at DCH from sections transferred from the former Department of Human Resources' Office of Regulatory Services. Also in 2009, the Office of Health Information Technology and Transparency (now the Health Information Technology Division) was formed at DCH. Today, DCH serves as the lead agency for health care planning, purchasing and oversight in Georgia.
Mission
The mission of the DCH is to provide Georgians with access to affordable, quality health care through effective planning, purchasing and oversight.
We are dedicated to A Healthy Georgia.
Goals
State of Georgia's Key Goals for the Department of Community Health
Healthy Georgia
Responsible and Efficient Government, Fiscally Sound, Principled, Conservative
Department of Community Health's Key Goals
Improve health status of Georgians by promoting healthy lifestyles, preventive care, disease management and disparity elimination.
Improve access to quality health care at an affordable price.
Ensure value in health care contracts.
Move health plans administered by DCH toward being financially solvent to meet the needs of the members.
Increase effectiveness and efficiency in the delivery of health care programs.
Ensure DCH has enough workers with the necessary skills and competencies to meet the current and future demand.
Purpose
Shaping the future of A Healthy Georgia by improving access and ensuring quality to strengthen the communities we serve. 
Core Organizational Values
Accessible and Affordable Health Care
Program Integrity/Ethics
Fiscal Responsibility and Efficiency
Health Promotion and Prevention
Innovative Technology
Quality-driven Services
Teamwork
Respect for Others
Related Files and Information
State of Georgia Health Care Agencies
The four health care agencies serving Georgia are: the Department of Community Health, the Department of Behavioral Health and Developmental Disabilities, the Department of Human Services and the Department of Public Health. Visit this page to learn more about each agency.