Mammography Quality Standards Act (MQSA)
Welcome to Healthcare Facility Regulation Division (HFRD). Healthcare Facility Regulation (HFR), a division of the Department of Community Health (DCH), is responsible for health care planning, licensing, certification and oversight of various health care facilities and services in Georgia. 
Doctor in her office holding x-ray scans up to light.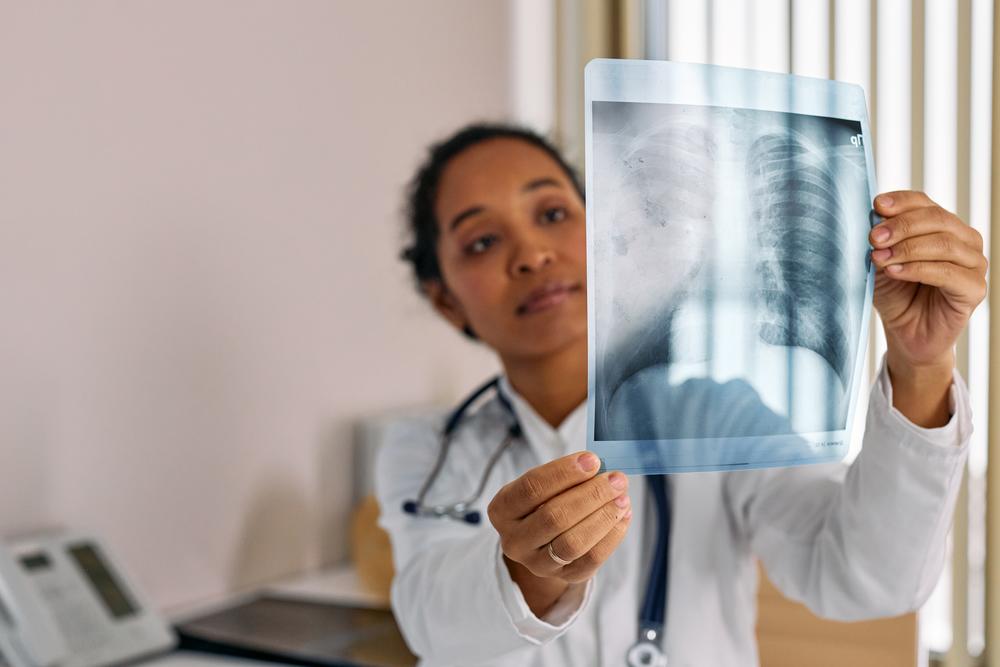 Mammography is a type of medical imaging that uses x-rays to capture images (mammograms) of the internal structures of the breasts. Quality mammography can help detect breast cancer in its earliest, most treatable stages; when it is too small to be felt or detected by any other method. 
Mammography uses x-rays, exposing patients to a small dose of radiation. The Mammography Quality Standards Act (MQSA) established baseline standards for radiation dose, personnel, equipment, and image quality.
MQSA became law on Oct. 27, 1992. Congress enacted MQSA to ensure that all women have access to quality mammography for the detection of breast cancer in its earliest stages. The FDA began enforcing the accreditation and certification provisions of the Act on that date and began annual inspections of mammography facilities in January 1995.
MQSA Regulations
The Mammography Quality Standards Act requires mammography facilities across the nation to meet uniform quality standards. Under the law, all mammography facilities must: 1) be accredited by an FDA-approved accreditation body, 2) be certified by FDA, or its State, as meeting the standards, 3) undergo an annual MQSA inspection, and 4) prominently display the certificate issued by the agency.
The MQSA final regulations were written by FDA and are based on the MQSA of 1992 and MQSA Reauthorization of 1998.  See MQSA regulations at https://www.fda.gov/media/74251/download.
MQSA Guidance
MQSA guidance interprets MQSA regulations and addresses compliance issues. It is meant to help facilities comply with MQSA Final Regulations, but it does not have the force of law. If facilities follow the guidance developed for a specific MQSA requirement, they will be considered to have met the requirement. However, as guidance is intended to guide, not mandate, facilities may identify other ways of meeting MQSA requirements.
See the MQSA guidance document at Guidance (MQSA) | FDA.
FAQ
Answers to most questions about the MQSA program can be found at Frequently Asked Questions About MQSA | FDA or by emailing the Georgia MQSA State agency at [email protected].
MQSA Complaints
If a consumer has a serious concern about the quality of their mammography exam, they should ask to talk to the complaint contact person at the facility. If they are not satisfied, they should ask the facility for the name and phone number of the contact person at their accreditation body. If they contact the accreditation body and still are not satisfied, they can contact the U.S. Food and Drug Administration or the FDA-approved Certification Agency.
FDA Contact Information
Division of Mammography Quality Standards
Office of In Vitro Diagnostics and Radiological Health
Center for Devices and Radiological Health
10903 New Hampshire Avenue
WO66-4675
Silver Spring, MD 20993
MQSA Hotline 1-800-838-7715
MQSA Resources
Additional MQSA information can be found at Mammography Quality Standards Act and Program | FDA or emailing the concern to [email protected]. 
Employment Opportunities
The Department of Community Health (DCH) Healthcare Facility Regulation Division offers rewarding employment opportunities that support the agency's mission to help ensure oversight of various health care facilities and services in Georgia. See https://dch.georgia.gov/divisionsoffices/dch-employment for current DCH vacancies.