Pharmacist with Tablet and Patient Rx - Posted 09/24/12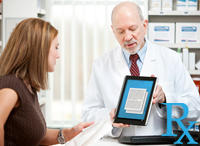 More than 1.8 million Georgians receive outpatient prescriptions through the DCH's Medicaid and PeachCare for Kids® programs. Annually, the department spends more than $1.1 billion on prescription drugs. Please use the links on the left of this page to connect to specific information about each component of the pharmacy program.
An additional 630,000 State Health Benefit Plan members receive outpatient prescriptions.
Georgia Medicaid Management Information System (GAMMIS)
If you are a doctor, pharmacist or other provider, you can use the Georgia Medicaid Management Information System (GAMMIS) to obtain easy, secure and efficient access to health care information. Use this site to obtain Medicaid information, including banner messages and provider manuals. You can also apply to become a provider at this website.

If you have trouble accessing GAMMIS, Customer Service Representatives are available to assist you Monday through Friday, 8 a.m. to 7 p.m. Providers may call: 800-766-4456 and members may call: 866-211-0950. For the quickest response please send an inquiry through the GAMMIS contact page.