Additional OIT Services
A person on a laptop with technological icons superimposed over their hand and computer.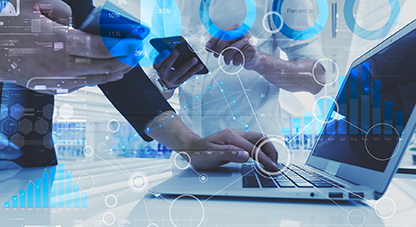 Information Technology Support – Supports end-user computing for the entire agency including a wide range of hardware and software related issues on staff computers and other devices and technologies. This unit also addresses network connectivity problems to help keep DCH employees connected and works directly with business partners in providing technology and mobile communications support to DCH staff.
Office of Information Security - Oversees DCH systems to ensure compliance with all data and data transmission security standards.  This includes applying and auditing all security requirements of the Federal and State governments including HIPAA compliance.  The unit is also currently managing the security requirements associated with the new integrated eligibility system, Georgia Gateway along with other important enterprise systems.
Technology Solutions, Data Management and Application Development Services - Responsible for developing effective and cost efficient technical solutions which bring automation to DCH business processes, identifying and testing software applications and systems for DCH, providing applications and technology which support DCH's mission, and providing assistance and support in the management of DCH data. Includes custom built applications such as GaMap2Care®, DCH's enterprise document management and work flow system, along with custom application and database support.  Team members also provide development and design expertise and data administration for the MITA initiative and associated projects.