Georgia Volunteer Health Care Program (GVHCP)
84264441GVHP_logo.jpg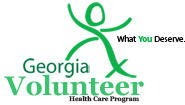 The Georgia Volunteer Health Care Program (GVHCP), of the Department of Community Health (DCH), provides Sovereign Immunity protection to licensed health care professionals who volunteer to treat uninsured individuals at or below 200 percent of the federal poverty level. Our goal is to increase access to quality health care for underserved Georgians through volunteerism and state-sponsored liability protection.
Latest News
» Opportunities for Free Medical and Dental Care
Georgia Volunteer Health Care Program's 2009 Updates
The major update to the Georgia Volunteer Health Care Program (GVHCP) made by Senate Bill (SB) 133 is the protection now afforded to contracted, paid nurses in safety net clinics.
Here are the program basics. Currently, the Health Share Volunteers in Medicine Act provides FREE Sovereign Immunity (SI) for licensed health and dental care professionals in safety net clinics who volunteer their time to treat eligible patients. The providers must be contracted as volunteers with the program for the state to extend SI protection. The providers are contracted to offer health care services as an agent of the state and must deliver care at no cost. The GVHCP is open to all active licensed health and dental care professionals, as well as retired physicians, dentists and chiropractors.
Here is the amendment's highlight:
SB 133 supports the growth of the free clinics by extending SI protection to GVHCP-contracted, paid nurses that serve in safety net clinics. The amendment allows the following nurses to receive SI with certain restrictions:
Advance Practice Nurse (N.P.)
Certified Nurse Midwife (C.N.M.)
Registered Nurse (R.N.)
Licensed Practical Nurse (L.P.N.)
The full amendment is available online; http://www.legis.state.ga.us/legis/2009_10/sum/sb133.htm.
Additionally, the licensing boards agreed to award Continuing Education (C.E.) credits to volunteer physicians, dentists and dental hygienists. Qualifying providers may receive 1 C.E. credit for 4 volunteer hours, with a maximum of 10 C.E. credits per 2-year cycle. Providers must submit documentation to the appropriate licensing board at the time of license renewal.