Welcome to the Planning for Healthy Babies® (P4HB) program, Georgia's family planning demonstration waiver created by the Georgia Department of Community Health (DCH). This program was developed to assist the Department in reducing the number of low birth weight (LBW) and very low birth weight (VLBW) births in Georgia. LBW is defined as babies born weighing less than 2500 grams (5 pounds, 8 ounces) and VLBW is the category of babies born weighing less than 1500 grams (3 pounds, 5 ounces).
Did you know Georgia ranks 46th in the nation in the number of LBW births? The P4HB® program is one of the strategies included under DCH's Improving Low Birth Weight Rate Initiative, which seeks to significantly reduce Georgia's LBW rate. The P4HB program will fill a critical gap in health care for underinsured and uninsured Georgians by expanding Medicaid eligibility to women who qualify for family planning services. In addition to family planning services, women who give birth to a VLBW baby will have access to additional services including primary care and care management.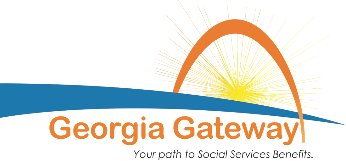 The State of Georgia and Planning for Healthy Babies ® (P4HB) has some exciting news. We will be transitioning to our new eligibility system called the Georgia Gateway on February 6, 2017. Here is some important information to know about this change.

What is the Georgia Gateway Customer Portal? 
The Georgia Gateway Customer Portal is a website that allows individuals and community based organizations to screen, apply for, and renew a broad range of public service benefits administered by various State agencies in Georgia. The Customer Portal will replace the existing online site, www.p4hb.org, as the new self-service web portal where new and existing customers can apply for, manage, and renew their benefits for up to six programs. In addition to being able to request benefits, customers with a Customer Portal account can also check the status of their application once submitted, view details about their benefits, and report changes. The new Georgia Gateway system does not change existing eligibility requirements, and all of your current information will seamlessly be brought over into the new system. 
How can I apply while the current www.P4HB.org website is down?
After January 19, 2017, www.P4HB.org will become a read only site where you may download and print an application, mail or fax to:
RSM Group
426 West 12th Street
Alma, Georgia 31510
Fax 912-632-0389
Applicants can also print an application from this site below. 
P4HB Publications
---
Additional P4HB Resources
The following links provide additional information about the P4HB program.
Maternal and Child Health Resources
National Resources for Mothers and Infants