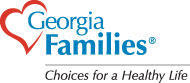 Georgia Families® is a program that delivers health care services to members of Medicaid and PeachCare for Kids®. The program is a partnership between the Department of Community Health (DCH) and private care management organizations (CMOs). Georgia Families provides members a choice of health plans, allowing them to select a health care plan that fits their needs.
Contacting Georgia Families
Members can visit www.georgia-families.com or call 888-423-6765 to speak to a representative who can give them information about the CMOs and the health care providers.
The three CMOs toll-free numbers for health care providers to learn more about enrollment with Georgia Families are provided below:
Eligibility and Enrollment
Beginning July 1, 2017, the Georgia Families® program will provide members a choice of four Care Management Organizations (CMOs): Amerigroup, CareSource, Peach State Health Plan, and WellCare. Members must select one of the four CMOs during the upcoming Open Enrollment period which will take place from March 1, 2017 through March 31, 2017. The Georgia Department of Community Health, Division of Medicaid has created frequently asked questions guide to help with the new open enrollment process for Georgia Families. Please visit, our Frequently Asked Questions page to find the answers to your questions!
Children enrolled in PeachCare for Kids®, pregnant women and women with breast or cervical cancer on Medicaid are required to participate in Georgia Families.  Health plans and primary care providers can be selected by calling a Georgia Families representative at 1-888-GA-ENROLL (423-6765) or by visiting the www.georgia-families.com.
Benefits
 With a focus on health and wellness, the CMOs will provide members with health education, prevention programs and expanded access to plans and providers, giving them the tools needed to live healthier lives. Providers participating in Georgia Families will receive assistance from the CMOs on educating members about accessing care, referrals to specialists, member benefits and health and wellness education.
Collaboration between CMOs and DCH provides a more efficient delivery of health care services and better care for members, and accountability to taxpayers, while maintaining predictable and sustainable growth for DCH.