DCH-i August 2012, Vol. 1 Issue 10
About DCH-i
DCH-i is the monthly newsletter from the Georgia Department of Community Health for all matters DCH. It provides timely and important information to you as physicians, dentists, hospitals, third-party payers, vendors, health care advocates, consumers and legislators. Our goal is to help create A Healthy Georgia -- together. Write us at DCH-i@dch.ga.gov.
---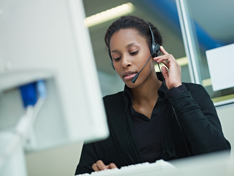 It started with a phone call and an unannounced inspection. It didn't end well for George Houser, owner of three nursing homes in Northwest Georgia. In fact, he has been sentenced to 20 years in federal prison in the first-ever case of billing Medicaid and Medicare for "worthless services."
Not only was Houser convicted of health care fraud conspiracy, in a separate case he was also found guilty of diverting more than $8 million in Medicaid and Medicare payments for personal use. His nursing homes were closed in 2007 and the criminal case was finally resolved in April 2012.
"This is a shocking case of fraud and abuse," said Brian Looby, chief of the Georgia Department of Community Health's (DCH) Healthcare Facility Regulation Division. "When we win cases like this, it's a triumph for the taxpayers and the citizens who rely on Medicaid and Medicare for their care."
The story began in 2007, when a resident's daughter called in a complaint about the home where her father had been living. The complaint went to the Georgia Department of Community Health's (DCH) Office of the Inspector General. A member of the staff went out on a Saturday to investigate. He found deplorable living conditions and residents with no food. Facilities had leaking roofs, food and medication shortages, inadequate staffing and unsanitary conditions. Subsequent inspections by the Office of Inspector General quickly followed.
Staff from the Office of Regulatory Services, which is now DCH's Healthcare Facility Regulation Division, also became involved and the case escalated. Houser's three facilities in Rome were closed that year. The state also closed a nursing home he and his wife operated in Brunswick.
"I'm very proud of the job our staff and the department continue to do in cases like this," said Toni Prine, interim inspector general for DCH. "It is a testament to the way that all of our agencies work together to protect the safety and security of our members and serve as fiduciary agents for the taxpayers."
Houser was also convicted of eight counts of failing to pay payroll taxes to the IRS; he failed to file personal income tax returns in 2004 and 2005. He was ordered to pay more than $6.7 million to Medicaid and Medicare and nearly $900,000 to the Internal Revenue Service.
"These outcomes provide encouragement to our staff to continue the fight against fraud," said Richard Greene, general counsel for DCH. "Often times it is staffers who begin a review that eventually leads to prosecution. These dedicated employees deserve credit and recognition for being the first in the field to identify these types of cases. Just knowing the results is important to those dedicated workers."
--Article by Pamela A. Keene, DCH Media and Public Relations Manager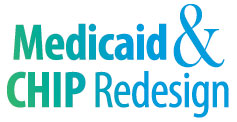 The recent announcement for the Medicaid and CHIP Redesign Initiative will ease administrative burdens and improve access to quality health care. DCH has received several questions about the specifics of the redesign plans and addresses them here:
Q -- How will you determine which CMO will be assigned foster care children? 
A -- During the course of the year, there are approximately 26,400 children entering and/or exiting foster care, including those involved in adoptions. Approximately 15,000 children are in foster care at any given time during the year. The Georgia Department of Community Health (DCH) is in the process of making the determination about how best to manage the health care for these children.
Q -- Do you have numbers for low-income Medicaid and PeachCare for Kids® members who are enrolled in Care Management Organizations?
A -- Currently, there are 1,052,878 enrollees in low-income Medicaid and 216,459 children enrolled in PeachCare for Kids.
Q -- On July 13, 2012, DCH announced several Georgia Medicaid redesign initiatives. One of these initiatives was developing a common Preferred Drug List (PDL) for certain therapeutic classes across Fee-for-Service (FFS) and the Care Management Organizations (CMOs). Does this mean there will be one Medicaid PDL across FFS and all three CMOs?
A -- No. DCH and the CMOs are working to develop commonality in certain therapeutic classes of drugs.
Q -- Will the CMOs be mandated to follow the FFS PDL?
A -- No. This is a collaborative initiative.
Q -- Which therapeutic classes of drugs will be included in this program?
A -- There is no preset listing of included or excluded therapeutic classes at this time. DCH and the CMOs will begin with classes where we have the most commonality and work from there.
Q -- Will this change the role of the DCH Drug Utilization Review (DUR) Board?
A -- No. The DUR Board role does not change. The DUR Board is advisory to the department.
Q -- Will the CMOs have a voice in the DUR Board?
A -- Yes. A physician and pharmacist representative from each plan will be offered a voting role on the DUR Board.
Q -- Why is DCH undertaking this initiative?
A -- There are three primary reasons. First, this will result in greater continuity of care as members move from FFS to a CMO, CMO to FFS, or CMO to CMO. This will decrease the situation where a patient established on a medication may have to switch to a new medication due to PDL placement of the drug. Second, this will result in administrative simplification for prescribers and pharmacies that care for our members. Third, this opens the door for DCH to pursue supplemental rebates (pending CMS approval) for CMO adjudicated pharmacy claims.
Q -- How can I keep informed about the progress of this initiative?
A -- Updates regarding this and other Georgia Medicaid Pharmacy items can be found at http://dch.georgia.gov/pharmacy.
Administrative simplifications are coming to the Georgia Department of Community Health (DCH). As Commissioner David A. Cook promised when he was appointed in January 2011, the department is simplifying processes to make conducting business with the agency easier for providers, the public and other stakeholders.
Here are several of the areas where administrative simplification is already at work:
Medicaid Provider Credentialing – DCH has streamlined provider credentialing for the Fee-for-Service (FFS) Medicaid program by making the entire process electronic. This change has reduced the provider credentialing process from months to a maximum of 15 days.
Communications Access – DCH Operations and DCH Communications are refining the process of Webcasting DCH board meetings and other public meetings. This will increase access and transparency and improve the dialogue between the department and all Georgians.
Office of the Inspector General (OIG) Background Checks – Since the OIG took on the responsibility of background investigations for Medicaid providers, major improvements have been accomplished. The OIG has developed a fingerprinting process that greatly reduces errors that applicants made; all criminal history documents are now stored electronically to increase staff access to information; and the amount of time it takes to issue fitness determinations for personal care homes has decreased from about 30 days to three days.
State Health Benefit Plan (SHBP) Instant Messaging – The SHBP call center has introduced instant messaging so that SHBP representatives can contact a supervisor while on the line with a caller. The addition of instant messaging allows the representative to obtain the correct answer for a caller immediately, rather than following up later.
Healthcare Facility Regulation (HFR) Payments, Expansion – This year, HFR has launched two key initiatives: acceptance of electronic payments and "physician extender" (increasing physician access in Georgia by expanding the term "physician" as used in the nursing home rules to include physician extenders, such as physician assistants and advanced practice registered nurses). Previously, some nursing homes in rural areas of the state were finding it difficult to obtain the services of physicians. This change is in place to increase CMS nursing home compliance in Georgia.
HFR/Legislative Initiative Reduces Bureaucracy– SB 407/Act 749 was a DCH legislative initiative to remove two inactive boards from state rosters. The Clinical Laboratory Blood Bank and Tissue Bank Committee (CLBBTBC) and the Health Strategies Advisory Council (HSC) were advisory boards that have not received new appointments in recent years. Eliminating these two state boards removed an unnecessary level of bureaucracy in the development of state health policy.
DCH will continue to streamline processes. Some of the projects on the horizon are the Interagency Eligibility System, which will help with member enrollment across agencies, and the Redesign's web portal for providers.
We welcome your comments and suggestions. Please send them to dch-i@dch.ga.gov.
The next time you go to the Georgia Department of Community Health's (DCH) website www.dch.georgia.gov to find information, you will be pleasantly surprised to find it has a new design and format, improved search capabilities, is more robust and has more agility. At the end of July, DCH adopted the website look of Georgia Technology Authority's Georgia.gov portal, along with its updated and streamlined content management system.
"I am very excited for our providers to see our new site," said DCH Commissioner David A. Cook. "We spent many months developing the site's navigation, usability and graphic interface to ensure that visitors will be able to find what they need more expeditiously than on our old site."
The site includes more visitor-friendly search capabilities, such as "how do I know I am in the right place?" and "how do I get help?" It also prominently features a drop-down box at the top of the home page especially for providers. The site's top/main navigation bar also includes a new tab for budget and performance information.
Once content is totally migrated, plans for the website include enhanced navigation, more graphics and videos, and a variety of other features to augment the user experience. 
"Our hope is that with improved diagnostics on our new site, we will be best able to see where visitors need the most help and work to fulfill those needs," said Commissioner Cook. "We want our website to provide access to pertinent information in the most transparent, easily accessible way."
--Article by Iris McIlvaine, DCH Public Relations Manager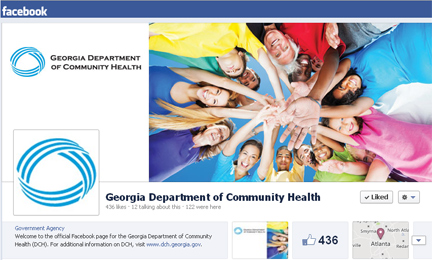 The Georgia Department of Community Health (DCH) has taken to the Social Media scene once again. We initially launched our Facebook and Twitter pages late in 2010. Although we have been casually posting during the past 20 months, we are now making Social Media a priority.
Recently, our Facebook page received a new look. You can find us at www.facebook.com/gadept.communityhealth. Through Facebook, we will update our stakeholders regularly about current DCH happenings, typically with a paragraph or two. Several recent posts have talked about our new website and the state's strategic priority to reduce childhood obesity. Please log on to our Facebook page and "Like" us. By hitting the "Like" button, you will automatically receive updated information about DCH through your Facebook account.
Our Twitter page is also active again. If you are currently following us, you have probably seen a few "tweets" from us recently. Our tweets tend to support our Facebook messages, DCH-i articles or any of our program areas in a very concise message format. Follow us on Twitter by logging onto https://twitter.com/GADCH.
Both Social Media outlets work in conjunction with our monthly DCH-i e-newsletter and our website, www.dch.georgia.gov. DCH-i still offers the best place to find current in-depth information. Although Facebook and Twitter are great for sharing real-time information, you can't beat the detailed articles in DCH-i. Be sure to log onto our newly refreshed DCH website for additional program and provider information. From Facebook to Twitter and more, our messages will vary. To stay informed, sign up for both, continue to read DCH-i and logon regularly to www.dch.georgia.gov.
--Article by Karen Rothschild, Deputy Director of DCH Communications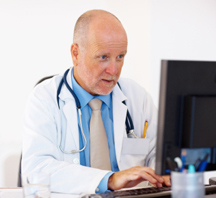 After several postponements by the Centers for Medicare & Medicaid Services (CMS), Version 5010 transaction standards have gone live. According to officials at the Georgia Department of Community Health (DCH), the July 1, 2012, the transition went very smoothly.
At the time of the go-live, more than 98 percent of all providers were using the 5010 standards for their transactions, including eligibility, claims status, referrals, claims and remittances. For those who had not remediated their systems, DCH and Hewlett-Packard Enterprise Services (HP) formed a triage team to assist with the transition.
The MMIS system processed 56,322 transactions from July 1 to July 31. Of those, only 266 files failed, and 254 of those failed for normal compliance errors. The remaining 12 were associated with partners who attempted to send files in the non-compliant 4010 format.
 "We're pleased with the transition and commend our providers in moving to this new technology," said Sonny Munter, chief information officer for DCH. "This bodes well for the upcoming conversion to the ICD-10 code sets."
CMS has just announced that the conversion to ICD-10 has been extended to October 1, 2014.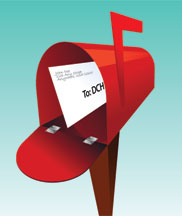 DCH-i answers your questions each month. If you have an issue, a question or a comment, we'd appreciate hearing from you at DCH-i@dch.ga.gov.
Q -- In reading a recent article in DCH-i about the Balancing Incentives Program (BIP) grant to increase access to home- and community-based long-term care services and supports, can you please explain why our agency, a private home health provider, received a call that same week that all CCSP and SOURCE admissions have been stopped or "on a freeze"? 
A -- All 1915c Medicaid Waiver Programs require CMS approval for the total amount of waiver expenditures as well as the total number of waiver participants served each year. At the time of your e-mail question to us, Georgia was nearing the end of the five-year waiver approval. The Georgia Department of Community Health (DCH) recently resubmitted the application for renewal on June 30, 2012 to become effective (barring any unforeseen events) on October 1, 2012. The program currently is very close to exceeding the CMS-approved number of waiver participants for Waiver Year 5. Should the state exceed the approved number of participants, it is in serious jeopardy of being required to repay the federal portion of all claims paid for waiver participants in excess of the approved number.
Like all who work with the Medicaid waiver programs, we sincerely regret that we had to take this action and know what this means for individuals who need community-based services. The risk, however, of repaying potentially millions of federal dollars representing unapproved claims was too great. At the same time, DCH applied for enhanced federal funding through the BIP grant to increase future funding for community-based care.
We are indeed moving forward on the expansion as provided in the BIP grant, which is a three-year federally funded program that will bring $57 million more to home- and community-based programs.
Q -- What does the recent announcement of the Medicaid Redesign mean regarding the vendor procurement and expansion award process this year?
A -- The Georgia Department of Community Health (DCH) will be extending the CMOs contracts through 2015 to allow time for us to determine the best way to proceed. 
DCH found it imprudent to move forward with a wholesale restructuring of the program at this time due to uncertainty coming out of Washington. It is difficult to predict if or when conditions improve for evaluating more substantial reforms in addition to the improvements that Commissioner Cook announced in July. But as Commissioner Cook stated, the redesign is an ongoing process. When DCH identifies an opportunity to improve our program, we will take advantage of it.
Q -- With the new Medicaid redesign, will the program be able to tell us what the patient's co-pay amount is when verifying benefits and eligibility? At this point we are able to see co-pay required.
A – As with the current system, the co-pays will be listed in the manuals.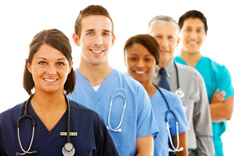 The Georgia Alliance for Community Hospitals is hosting a Medical Fair to assist with physician recruitment throughout Georgia at its annual meeting October 12-13. The meeting and Medical Fair will take place at the Ritz-Carlton at Reynolds Plantation.
Sponsored in conjunction with the Georgia Rural Health Association, this is an opportunity for providers to recruit physicians.
To register or for more information, visit www.gachallpac.medicalfair.dojiggy.com
Jerry Dubberly
Jerry Dubberly, Pharm.D., Georgia's Medicaid chief, has been named to the board of the National Association of Medicaid Directors. He will represent Region III, the South.
As division chief, Dr. Dubberly provides leadership for the Georgia Medicaid Program and ensures compliance with state and federal laws, rules and regulations.
Consistent with the DCH mission, he and his team seek to provide access to quality health care, responsible use of health care resources, and the promotion of positive health behaviors and health outcomes through the Medicaid and PeachCare for Kids® programs. Together, these programs serve 1.7 million Georgians.
Dr. Dubberly will serve on the NAMD board through the end of this year.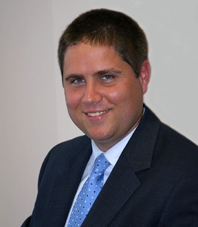 Chris Schrimpf
DCH has a new director of communications. Chris Schrimpf has come back to Georgia after serving in several posts out of state. Schrimpf manages all of the department's communications initiatives, including media relations, marketing, external and internal communications.
Prior to joining DCH, Schrimpf served as the communications director for Gov. Scott Walker in Wisconsin. He managed strategic messaging for the governor and his administration. Chris helped successfully lead the governor's communications program during one of the most noteworthy times in Wisconsin's history.
Before working for Gov. Walker, Schrimpf served in a variety of government and communications roles. His experience includes director of communications for the Republican Governors Association, press secretary for Gov. Perdue, and deputy communications director for "Perdue for a New Georgia."
A graduate of Cornell University in Ithaca, N.Y., Schrimpf is a native of Cincinnati, Ohio.
--Story by Pamela A. Keene, Media and Public Relations Manager
'Tis the Season for Budgets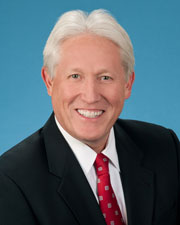 David A. Cook
With summer coming to a close, the Department of Community Health (DCH) is also entering a new season: budget season.
With regard to Medicaid, we have some very hard decisions to make. As you have seen from our approach on Medicaid Redesign, we are deliberative and judicious in our actions.
The FY13 state budget for Medicaid is $2.7 billion and with federal funds, our Medicaid budget exceeds $8.2 billion. As Medicaid continues to grow, so does our challenge to fund it. This year's shortfall exceeds $400 million. Unfortunately, because of the way our current Medicaid system is structured, our options to manage the program are limited. For example, consumerism incentives to encourage appropriate utilization are significantly limited.
Another good example is the recent court decision that now requires DCH to provide expanded coverage for a brand name drug that provides no greater clinical benefit than the compounded drug, but costs literally 30 times more. This one decision will cost Georgia's Medicaid program more than $20 million. 
We continue to call on Washington for more flexibility to develop and administer a Medicaid program that is consistent with Georgia's values and pocketbook.
As we look at cost reduction strategies in Medicaid, we are looking at them in the following order:
Eligibility
Scope of Benefits
Utilization
Payments to Providers
We are pleased to say that our current budget proposal does not include any reduction in rates to providers. We hope that by employing other strategies, we will be able to keep rate reductions at bay.
After Medicaid, the State Health Benefit Plan is our largest program. We have worked hard over the past two years to put SHBP on sound financial footing. Without the structural changes made last year and continuing into the future, SHBP would be facing a deficit of more than $1 billion at the end of this fiscal year. Instead, we are now forecasting a balanced budget for FY 2014.
Because of the work of SHBP management, our costs are 40 percent lower than the national average, while our premiums are comparable or lower than our sister states, even as we offer more benefits and choices.
We're most proud of having more than 360,000 Georgians enrolled in our Wellness Plan, making it the largest in the nation. The Wellness Plan encourages members to be engaged in their health care and in their life choices.
In the weeks ahead, we will continue to examine opportunities for savings to target our limited resources to core government services delivered in the most effective, efficient manner possible.

          David A. Cook
Georgia's Medicaid Electronic Health Record (EHR) Incentive Program has issued more than $73 million to eligible providers through the end of July 2012. The program was launched on September 5, 2011.

Commissioner Cook will address these organizations in September and October:
August 9 Board Actions
The following action was taken at the August 9 Board of Community Health meeting:
August 23 Board Actions
The following action was taken at the August 23 Board of Community Health meeting:
Thursday, September 13 -- Board of Community Health Meeting -- 10:30 a.m.; 2 Peachtree Street, 5th Floor Board Room, Atlanta
Monday, September 24 – Health IT Town Hall Meeting – 10 to 11:30 a.m. Medical Center of Central Georgia, 777 Hemlock Street, Macon
---
Get News You Can Use
Join our mailing list for DCH-i at DCH-i@dch.ga.gov
---

Editor-in-Chief
Pamela A. Keene
Graphic Design
Karen Rothschild
Webmaster
Jeffrey L. Holt
Production
Iris McIlvaine
Circulation
Denise Smith
Peggy Woodruff
Deputy Director/Communications
Chris Schrimpf
Director/Communications
---
About the Georgia Department of Community Health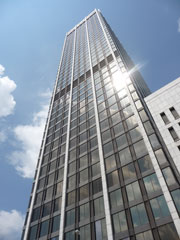 2 Peachtree
The Department of Community Health (DCH) conducts the business of health care for Georgia. Through effective planning, purchasing and oversight, DCH provides access to affordable, quality health care to millions of Georgians, including some of the state's most vulnerable and underserved populations.
DCH is responsible for Medicaid and PeachCare for Kids,® the State Health Benefit Plan, Healthcare Facility Regulation and Health Information Technology in Georgia.
We are dedicated to A Healthy Georgia.