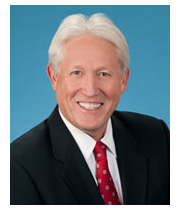 David A. Cook
Governor Nathan Deal appointed David A. Cook to serve as Commissioner of the Georgia Department of Community Health (DCH) in January 2011. He currently leads the $12 billion agency responsible for health care purchasing, planning and regulation for Georgia, and for improving the health outcomes of its citizens.
From 2001 to 2010 Cook served as the Chief Executive Officer with the Medical Association of Georgia (MAG). During that time he restructured the organization, successfully streamlined its operations and applied increased resources to member services. Prior to this role, Cook was MAG's General Counsel and Director of Advocacy.
Cook's career spans the legal and legislative arena, both at the state and federal levels. His affiliation with the Georgia General Assembly began in 1976, when he served as the Reading Clerk for the Georgia State Senate. In 1984, after completing law school, Cook served as a top aide to State Senator Nathan Deal, who chaired the Senate Judiciary Committee and served as president pro tempore of the Georgia Senate. When Deal was elected to Congress in 1992, Cook served him in Washington, D.C., from 1992-1995 as his Chief of Staff.
Cook was the managing partner in the law firm of McGuire, Cook, & Martin P.C. from 1984 to 1992, specializing in corporate law and contract litigation.
He is a 1982 graduate of the University of Georgia School of Law and a 1976 graduate of Georgia Southern University.
He was instrumental in establishing the Physician's Institute for Excellence in Medicine dedicated to helping physicians enhance their clinical practice and improve patient safety, and he served on its Board of Directors. He also served on the Board of Directors of the Physician Advocacy Institute, the American Medical Association's Advocacy Resource Center (ARC) and the Georgia Medical Political Action Committee (GAMPAC). He has served as President of the American Society of Medical Association Counsel and received the American Medical Association's Meritorious Achievement Award in 2009.
Return to Management Team Bios